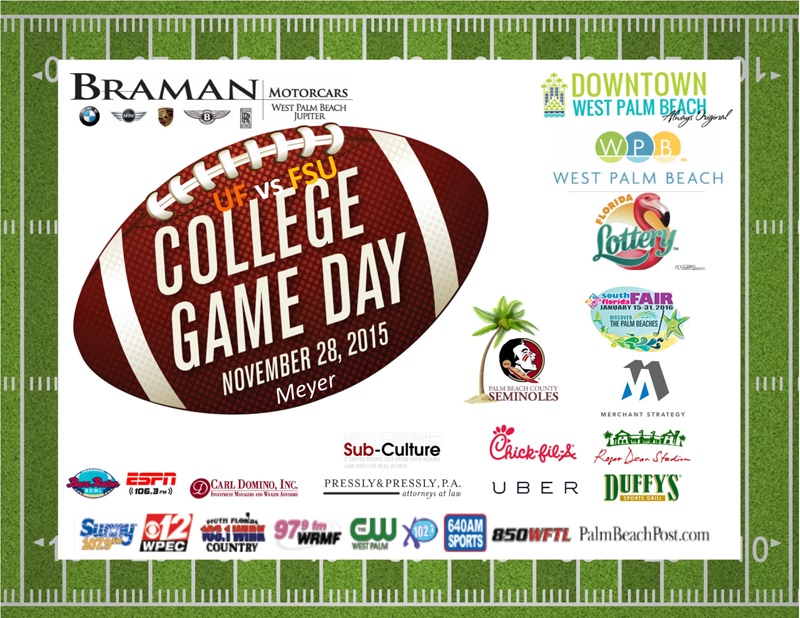 Braman Motorcars College Game Day will feature high school cheerleaders and marching bands, "stadium" vendors, former celebrity football players, competitions for kids and adults, vendors, and entertainment. The Downtown Development Authority is hosting this day of rivalry college games to be featured throughout the day on the big screens with the grass chalked off like a football field. Come join the fun!
Click here for more event information.
The Seminoles face rival Florida in their final game of the regular season this Saturday at 7:30 p.m.
Florida State has won four of the past five meetings against the Gators, including two in a row in Gainesville. A third straight win in "The Swamp" would be a feat never before accomplished in Florida State history. The 10th-ranked Gators enter the season with just one loss, but they needed overtime to defeat Florida Atlantic at home last weekend.
Join your fellow Palm Beach County Seminoles at either of our two official FSU football game-watching locations -- Grease Burger Bar on Clematis Street in downtown West Palm Beach and Mellow Mushroom off Atlantic Avenue in downtown Delray Beach.
Grease will offer a 25% percent discount and $2 touchdown shots, while Mellow Mushroom will offer a 15% discount on food and various drink specials to all those FSU fans wearing the required wristbands. There will also be door prizes for the chance to win FSU football tickets.
Saturday's prizes include club seats to the April 9 spring game at the Orlando Citrus Bowl.
Proceeds from your donations benefit the Palm Beach County Seminole Club scholarship fund, which provides two scholarships each year to local students who have chosen to continue their education at FSU.
All fans are encouraged to arrive early as there is no reserved seating.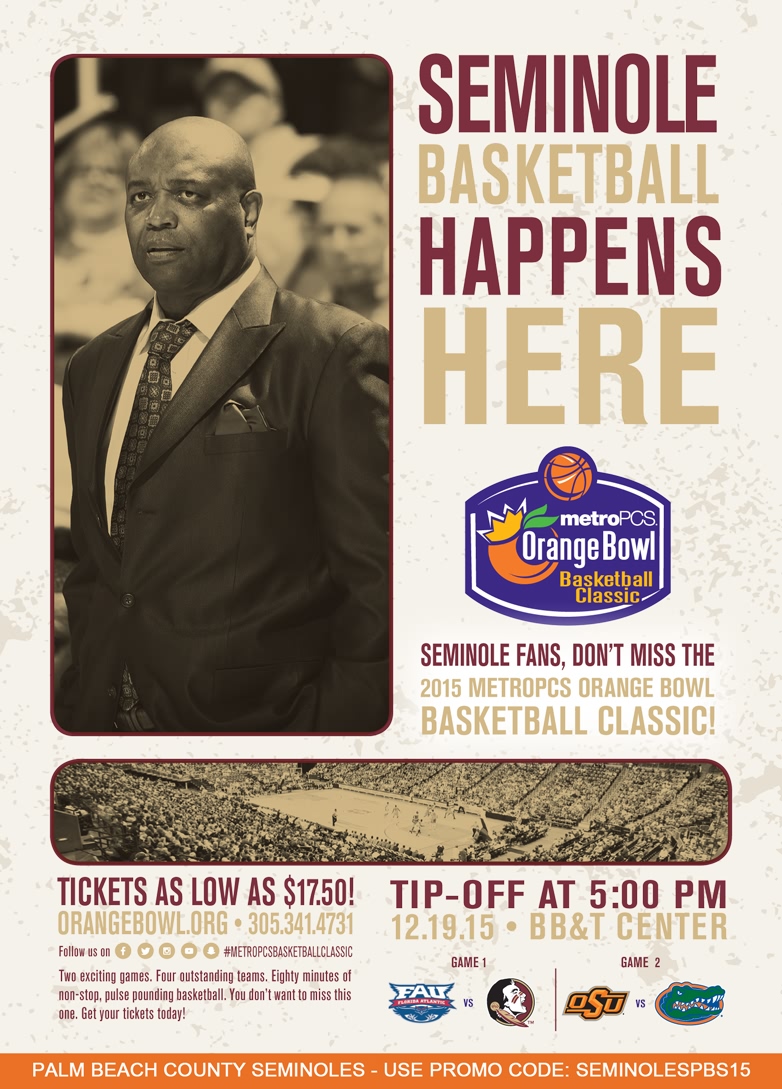 The Seminoles will be participating in the Orange Bowl Basketball Classic on December 19th at the BB&T Center in Sunrise, Florida. As part of our annual fundraiser, a portion of ticket sales will benefit The Palm Beach County Seminole Scholarship program.
The Palm Beach County Seminoles would like to offer a special discounted rate to members, families, and friends of the club. The club will receive $5 back for every ticket sold, so come and support your Seminoles!
Purchase Tickets
http://game.orangebowl.org/seminoles/
Promo Code: SEMINOLESPBS15