No. 12 Florida State returns home this Saturday at 3:30 p.m. against North Carolina. The defending Atlantic Coast Conference Coastal Division champions travel to Tallahassee for the first time since a 37-35 victory in 2010. Join your fellow Palm Beach County Seminoles at either of our two official FSU football game-watching locations -- Grease Burger Bar on Clematis Street in downtown West Palm Beach and Mellow Mushroom off Atlantic Avenue in downtown Delray Beach.
Grease will offer a 25% percent discount and $2 touchdown shots, while Mellow Mushroom will offer a 15% discount on food and various drink specials to all those FSU fans wearing the required wristbands. There will also be door prizes for the chance to win FSU football tickets. Saturday's prizes include tickets and a ride on the club bus to the Oct. 8 game at rival Miami. Proceeds from your donations benefit the Palm Beach County Seminole Club scholarship fund, which provides two scholarships each year to local students who have chosen to continue their education at FSU. All fans are encouraged to arrive early as there is no reserved seating.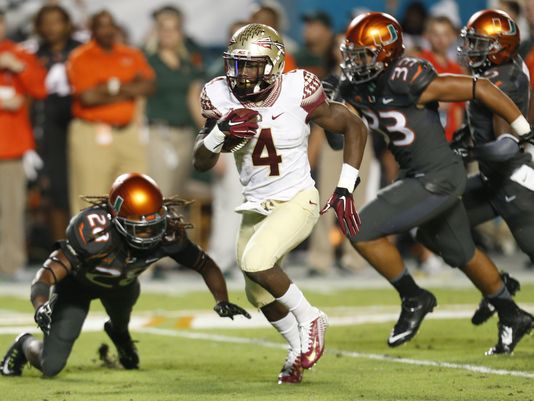 Join the Palm Beach County Seminole Club as we trek south to Hard Rock Stadium for the October 8th game between Florida State and the Miami Hurricanes. Ride in style on luxury buses with beverages donated by our game-watching sites, Grease Burger Bar and Mellow Mushroom. We recommend you bring your favorite drinks and snacks just no glass, please. If you have any questions, email events@pbnoles.com.
For $140, we'll get your ticket and transportation to and from the game. Have a ticket but need a ride? No problem. For just $40, you can hitch a ride with your fellow Seminoles and save on gas money and exorbitant parking fees. New this year, we are offering three pickup locations. Choose the most convenient pickup location; Grease Burger Bar (Downtown West Palm), Mellow Mushroom (Delray), or Palm Springs Village Hall.
The buses will pick up from each location four hours before kickoff and depart Hard Rock Stadium 30 minutes following the conclusion of the game. Please be sure to arrive on time as the buses will not wait on late arrivals.
Date:
Saturday, October 8, 2016
Departure Time:
4 hours before kickoff
Destination:
Hard Rock Stadium, Miami Gardens, FL
Kickoff:
TBA
Cost:
$140 bus ride and ticket or $40 bus ride only
Bus trip pricing and pick-up location options:
Ticket/Bus Pickup at Grease $140
Bus only Pickup at Grease $40
Ticket/Bus Pickup at Mellow Mushroom $140
Bus only Pickup at Mellow Mushroom $40
Ticket/Bus Pickup at Palm Springs Village Hall $140
Bus only Pickup at Palm Springs Village Hall $40
.
Purchase Tickets